SILVER WEDDING RINGS
British made silver wedding rings
The BEST! men's and women's sterling silver wedding rings made in the UK. While sterling silver is not always the best choice for your wedding rings, it is vital that you purchase the highest quality silver you can. We do realise that it is possible to buy imported silver wedding rings that are far cheaper than ours, but you must ask yourself that when you are considering a silver wedding ring am I going to get any after sales service?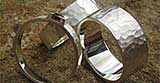 About our silver wedding rings
Much of the imported silver jewellery is of inferior quality, and we have heard stories from customers who say that their silver rings have eventually distorted from suppliers who mark up cheap imported goods. Our silver wedding rings are much more robust and come with an after sales service should you require re-polishing or even resizing wherever possible.
Here we feature a lovely selection of both designer and the more traditional plain bands, and they all can be personalised with an engraving of your choice.
Our other silver rings
Don't forget to take a look at our silver engagement rings and also the other section of our site devoted to entirely to unusual silver rings for both men and women.