SAVE MONEY on Your Engagement Ring NOW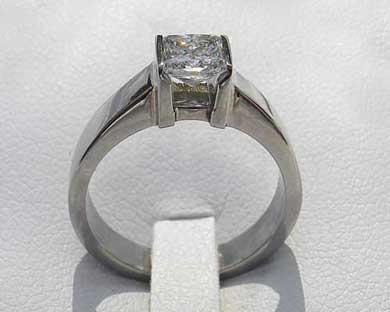 We have always said that our designer engagement rings made from titanium are excellent value for money, but why is this?
In this article, we will offer some advice on buying a cheaper option diamond engagement ring in titanium as an alternative to a gold diamond set engagement ring.
You need a large diamond for that engagement ring
So you have decided to get engaged, and now it's time to start hunting for the perfect diamond ring to prove your commitment is genuine. They say diamonds are a girl's best friend and when it comes to choosing a diamond engagement ring, this couldn't be more important to get right. In fact, the bigger the diamond, the better, so it's time to check your bank account.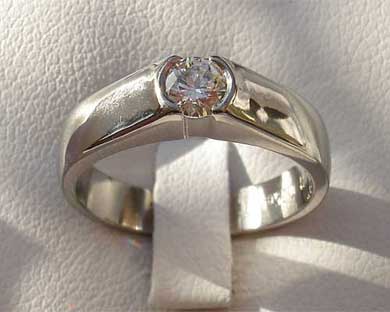 Large diamonds are very expensive
Diamonds come in all sizes, but you should be looking at a 0.25ct diamond at least when it comes to size. However 0.25ct diamond rings can be expensive costly. A 0.25ct diamond is one of the most popular stones used for diamond engagement rings these days, so a diamond of this size is the only serious choice to impress your intended, and she may not be very impressed by anything less than this. However, not everyone can afford such a lavish piece of jewellery. Traditionally a diamond ring is made from 18ct white or yellow gold to house the gorgeous sparkler, and the prices of these rings can run into a four-figure number.
Consider an engagement ring made from a non-precious metal
At Love2Have we can offer you an alternative, and the diamond used is the real thing. Titanium can make an excellent alternative to 18ct gold when it comes to choosing an expensive diamond ring. It's strong, light and has a lovely finish to it when worked well by professional machinery. On top of this, one more trick titanium can offer, being able to tension set the stone. It's so tough that the stone is highly unlikely to dislodge under normal wear and tear. It catches the light held in position by just two of its edges - real beauty revealed.
A traditional diamond ring is not capable of such a feat as the precious metals used in jewellery are too weak to hold a diamond in a tension set arrangement as the gold naturally bends, and the sparkler falls away. Something your partner will not be at all impressed with at all.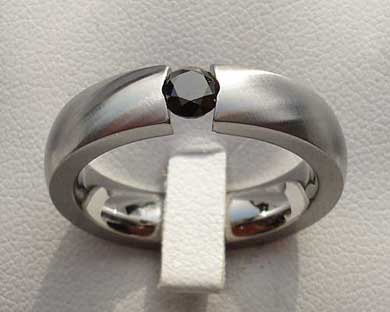 Titanium makes an excellent choice for a diamond engagement ring
Another option open to you is zirconium. You can't tension set zirconium as you can titanium due it not being as strong, but it does make a unique alternative to the norm and it looks good on men wishing to consider a diamond ring for themselves. There are plenty of men's wedding rings to choose from also. Finally, pricing can be almost 75% less than that of an 18ct gold ring, reason enough to consider the alternatives we think. Just a look at the price our tension set diamond rings today.
So there you have it, an idea for a wedding or engagement ring at a price you can now afford. Please check back as we will be featuring more of these rings in the coming months. Visit our engagement rings section to see the full range.
Now that you have read on how to save money when purchasing a quality engagement ring, it's time you take a look at the best BRITISH Made TITANIUM ENGAGEMENT RINGS ONLINE in the UK!