Here are some ideas that may give you some inspiration in choosing an engraving message for your personalised jewellery.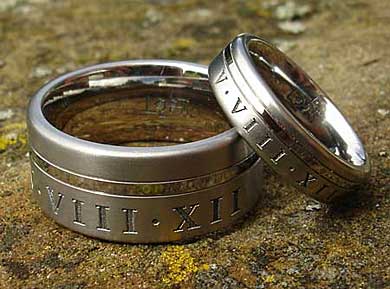 Love2have offer precision laser engraving on most of our titanium rings. In fact, we can personalise most of the jewellery on our website including bangles and bracelets. However, it is personalised wedding rings that are by far the most popular item of jewellery that our customers ask to be engraved. Normally most customers know exactly what they want engraved onto their jewellery, but from time to time some of you ask us for ideas, so we have put together a small list of suggestions to inspire you.

A Special Song - Is there a particular song that you and your partner have declared to be "our song"? Usually, it's a song that either reminds you of a special moment in your relationship like the first time you met, tells a story similar to your own, or speaks perfectly of the feelings you have for one another. You can have the title of the song engraved in your wedding rings or a better idea might be to have a line from the chorus or a verse engraved in them.

An Important Date - The most popular choice if all. A wedding anniversary or a date of birth for example. Why not consider having the date in roman numerals rather than the standard numbering system we widely use today?

An I Love You Love Message - It isn't necessary that you come up with an extraordinarily original idea. Often, the simplest phrases have the greatest impact and sometimes, less is more. Consider engraving "I love you", "I will love you forever", or "Forever yours".

A Love Poem - Whilst not as popular as days gone by, poetry is still a perfect way to express ones deepest emotions. You might try writing your own love poem. If you have no inclination for writing, you can always turn to a famous poet. There are plenty of web sites on the Internet about love and romance. You shouldn't have any problem finding a love poem that you like.

Your Wedding Vows - If your wedding vows are not very long, you may be able to engrave them on your rings. However, if you think it's too much, you can choose one sentence or a small phrase that represents the essence of your vows and have that engraved on them.

A Bible Verse - Engraving a Bible verse on a wedding ring is probably one of the most popular options. You might choose a verse about love such as "Love never ends" from 1 Corinthians 13.13 or "My beloved is mine and I am his/hers" from the Song of Solomon. For other ideas, look up the word "love" in a Bible dictionary or concordance. You'll find a long list of verses that you can choose from.

Your very own Graphic - Yes, we can arrange for you to have a custom design of your own choice engraved on a ring. Providing the design is provided as a black and white jpeg file, the possibilities are limitless. This is one for all you budding graphic designers out there, but beware of copyright issues before asking us to engrave a trade marked logo. We can also engrave in any type face too, so just let us know what you are after and we will advise you on what to do next.

We hope that some of the above ideas may inspire you. On some of our rings the engraving comes as part of the ring design but for all others it is extra so visit our personalised jewellery engraving page to find out more on this service. Now you have decided upon your engraving its time to choose your wedding rings.

Written by John Lewis

Last updated 16th November 2015.