The BEST! UK made BRANDED Titanium, Zirconium, Yellow or White Gold CELTIC Wedding & Engagement Rings For Men & Women. ***LOWEST PRICES!*** Buy our British made Celtic rings direct online in the UK!
In this section you will not only find what most people regard as the traditional style gold Celtic rings for men and women, you will also find other more contemporary style rings in titanium and zirconium for men.
One of our most popular ranges are the Ogham rings personalised to your choice, which are available in titanium as well as yellow or white gold. Rings with Celtic designs have been popular for centuries and will remain popular because they will never look dated. Celtic patterns are usually made up of ropes formed into knot work patterns giving an endless number of designs. Celtic crosses are particularly eye catching and you will often see these around you from day to day in the stonework on buildings, tattoos and jewellery. In ancient times, the Celts would also display their designs on their weapons such as swords and shields. Celtic designs have always been popular in the manufacture of jewellery, not just for the crosses worn around the neck but for ring designs and in particular Celtic wedding rings.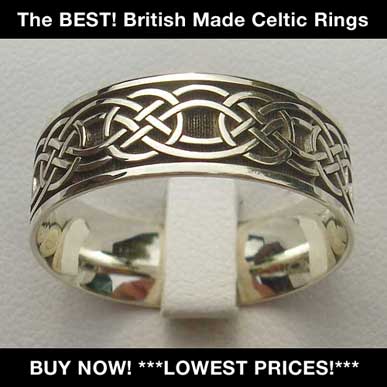 Although traditionally, Celtic wedding rings have been fashioned from gold, other precious metals are now used as well as some non-precious metals like titanium or zirconium. Silver is always popular for these rings but as it is a softer metal it isn't really the best choice for a ring which will be worn every day, hopefully for many years to come, as it won't wear as well as harder metals. Titanium and zirconium are a good choice as they are both hard-wearing metals as well as being cheaper than the precious metals. These metals are laser engraved so very precise patterns can be achieved. For a more traditional design, we offer handcrafted gold cast designs which are made from wax carvings.
Check out our rings with the personalised ancient Celtic language Ogham engraving. The Ogham rings collection for men and women is also featured in this section. Each unique Ogham ring is made by hand, you can decide exactly what you want to be inscribed on your ring and we will translate it into Ogham for you, a perfect idea for your wedding. For those customers on a tighter budget consider our Ogham titanium wedding rings. Engineered to the highest quality, these rings suit anyone's budget. The Ogham alphabet is known as the tree alphabet and was used from the 4th to the 7th century AD in Scotland, Ireland, England and Wales. The Ogham jewellery on our site makes a perfect wedding band for your special day that can be personalised just for you.
We have also put together some further reading for you too. This includes two articles on the Celtic artwork and the Celtic symbolism used for the engravings on our rings and another on the Ogham alphabet.
On a final note we are very confident in that not only do we provide the BEST Celtic rings made here in the UK (and probably the world) but also at the LOWEST PRICES too. If you think you may have seen the same ring elsewhere at a cheaper price let us know and we will price match like for like. YES! We can BEAT anyone!
---
---