Buy Our BRITISH Made BRIDAL SETS ONLINE in the UK!
Welcome to our bridal sets and matching wedding rings section. We decided to make this section into a mix and match choices of various styles of silver rings. Some are plain whilst others are set with stones such as sapphires and diamonds. As you can see the stone set rings are pictured with a matching plain version, and it is these that you can specify to suit your needs regarding styling, widths and finishes.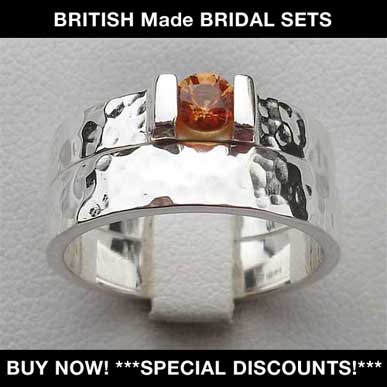 All of these rings feature elsewhere on our site but we have collected them together in this single section for your convenience as we know how popular silver wedding and engagement sets are becoming. By grouping the rings together you are saving money from having to buy them individually. We have reduced the prices for multiple purchases and if you are considering three rings, for example, a third plain ring for his wedding ring, then we may be able to offer you a further discount, so please do feel free to contact us as special discounts may be available!
All the rings can be classed as 'designer' in nature and all are made to the highest quality in the UK from sterling silver. We offer a full guarantee but do first consider sterling silver as the first choice as some people cannot wear this precious metal for long periods without it reacting to their skin and we can't guarantee for this. Generally, though, we tend to find most people are fine and we can offer extensive advice regarding this very issue.
---
---