SILVER CELTIC BRACELETS
British made women's Celtic bracelets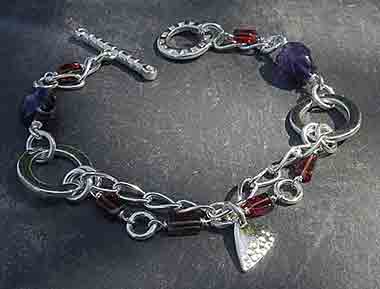 The BEST! Quality women's handmade silver Celtic bracelets in the UK at prices you can afford, fully guaranteed and returns accepted. Most of the Celtic jewellery that you may come across is usually quite lightweight and made from cheap silver. What's more, is that much of this low-quality Celtic jewellery is made abroad in far away places and produced using cheap labour, designed and made by people who have probably never even heard of the word Celtic before, let alone visited our Celtic nations.
Our Celtic bracelets are all made in Scotland
We at Love2Have have ensured that our customers get the best. Not only have we decided to feature the most unusual or alternative in Celtic designs, but the most authentic too. The silver Celtic bracelets in this section are all painstakingly made by hand from a Scottish designer based in Orkney, a land famous for its Viking ancestry and also Celtic history.
Our other Celtic jewellery
We would describe all the Celtic bracelets here as stunning in their attention to detail and magnificent in quality. To top off all of these virtues most of them are available as matching Celtic jewellery sets, and you will find the Celtic earrings and silver Celtic necklaces on our website too.