WOODEN WEDDING RINGS
British made wooden wedding rings
The BEST! men's and women's wooden inlay wedding rings made in the UK. You don't have to be looking at precious metals for your wedding rings if your budget does not allow. Customers visiting this section of our website should check out our wooden engagement rings for that perfect wooden wedding ring set.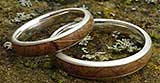 Our top quality silver and titanium rings with wooden inlays are a great example, having a beautiful handcrafted quality to them. We refer to some of them as rustic in design, but to be quite honest they all portray this natural handmade look. The inlays all have a slight unevenness which adds to the spiritual nature of these pieces, reflecting the natural undulating patterns in natural wood. As the wood in these rings ages, it does tend to darken and the fact that many people may not realise is that the natural oil from your skin reacts with the wood to protect it. These oils will toughen the wood and prevent it from splitting.
Looking after your wooden wedding ring
We often get asked about the care for the wood in these rings. The wood isn't technically treated or protected in any way, but it is OK when worn in water (but not too often), and there are far fewer problems if worn every day. If it dries out a bit, it can be oiled slightly with teak, linseed or olive oil. Not too much, just a little dab, or it can saturate the wood and make it fall out. Remember, even though we use hardwood in these rings, it is only wood, so will scuff against hard surfaces.
Our wooden rings are unbeatable value
On a final note we are very confident in that not only do we provide the BEST wooden inlay wedding rings made here in the UK (and probably the world) but also at the LOWEST PRICES too. If you think you may have seen the same wooden wedding ring elsewhere at a lower price, let us know, and we will price match like for like. YES! We can BEAT anyone!