WEDDING RINGS
Find the perfect British-made alternative wedding ring for you and your love.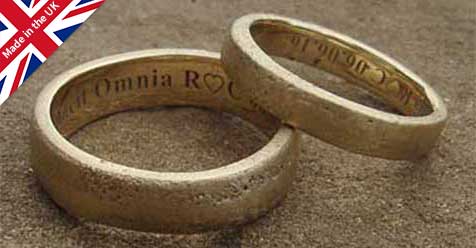 The BEST! British made men's and women's alternative and unique wedding rings made from titanium, zirconium, gold, silver, steel or wood.
Our finest wedding bands
We have carefully chosen a wide variety of quirky style wedding ring choices, from chunky stainless steel to, precious metals, so you should find a wedding ring here to fit your taste. Many of the rings are suitable for wedding sets, so they match each other but are designed to look right no matter what the finger size.
As all our wedding rings are made here in the UK, the designers can make sure they get this exactly correct for you. All you need to do is get your finger size correct which we can help you out with right from the start. We are more than happy to help you choose your unique wedding rings and offer you FREE advice along the way.
Our other all-occasion, engagement and wedding rings
Take a look at our engagement rings category too. You won't be disappointed at the exciting designs we have on offer for you. Incidentally, a good number of the wedding rings listed here come in titanium and we have plenty more titanium rings on our website together with other more traditional styles in the Celtic rings section.
Options and ideas for your wedding ring in silver, gold or titanium
So what choices are there for precious metals and other alloys for your wedding rings? In this article, we will look at steel wedding rings, silver wedding rings, gold wedding rings and titanium wedding rings. While silver is a relatively soft metal, steel and titanium are all particularly suitable metals for wedding rings because of their durability and hypoallergenic qualities. These metals also lend themselves well to the making of modern style wedding rings. Silver, although softer, casts into many forms whereas titanium and steel, are limited to band type wedding rings.
Plan ahead for your wedding ring
When you first decide to get married and start to prepare for your marriage couples often make the mistake of choosing their wedding rings at the last minute thinking that they can just pop along to any shop and pick the wedding rings from the shelf. More than often this is not the case, so we do advise that planning far ahead is the best course of action to avoid unnecessary stress.
Your wedding rings are a token of love and betrothal to be worn for a very long time. It is, therefore, essential to try and give your wedding rings some serious thought to making sure you get something that you like and that you will enjoy wearing. Most of you will be purchasing two rings so do consider matching rings also.
Consider carefully the wedding ring that will best suit you
If you do leave your wedding rings until quite late in the day, please be aware that many people often lose weight in the run-up to the big day and this may affect your finger size. If you put the weight back on, your wedding rings could become too tight for comfort. We can advise you on this issue, and many others concerning the purchase of your wedding ring online.
Choosing the style of your wedding ring is down to personal taste, but it is probably better to stick with a style that will not date but still look good in ten or twenty years time. Consider the width of the wedding rings carefully as although thick rings are currently very popular, they may not be that comfortable for some people if worn all the time. Lifestyle is also important as some style of rings may not be appropriate for specific jobs or sporting activities. For instance, you wouldn't want to spend a fortune on an 18ct gold ring if you have a heavy manual job.
The various metals to choose from for your wedding ring
The material that you decide on for your wedding rings is necessary as some elements stand up to wear and tear much better than others. The considerations for the type of metal for your rings is down to your taste, design style, durability and your budget. These days it is often the budget that dictates what you buy, but with the rings, we feature you need not compromise on quality.
Titanium and black zirconium wedding rings have become popular as men's wedding rings, and they will be more durable than those made from precious metals.
Gold the traditional metal of choice for your wedding ring
Gold wedding rings are ever popular as they wear well and looks good over many years. If you have a limited budget, 9ct is less expensive and harder wearing. White gold is also an option, but we would advise that you buy a ring made from high-quality white gold which is not rhodium plated and therefore not high maintenance. Rhodium plating needs redoing every six to twelve months depending on wear and tear. It is worth pointing out that 18ct non-rhodium plated white gold has a greyish colour which is not to everyone's taste.
A steel wedding ring is a new kid on the block. Sturdy, modern, hypoallergenic, cheap and very stylish for wedding rings. It has everything a man could want when it comes to choosing a wedding ring.
A wedding band engraving option for the finishing touch
Once you have considered the above options, personalising your unusual wedding rings is a good idea too. We can engrave just about anything onto your wedding ring from text to graphics etc. You will find an article on engraving ideas for your wedding rings on our website should you be stuck for ideas.

Newest Jewellery