UNUSUAL DIAMOND WEDDING RINGS
British made unusual diamond wedding rings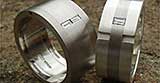 The BEST! British made unusual diamond wedding rings in stainless steel, silver and gold, very tough and hard wearing; stainless steel is the ultimate choice of metal for men that one of our designers uses to fashion our unusual diamond wedding rings for men. Traditionally, when couples get engaged, it is usually the woman that receives a diamond ring as a sign of betrothal. Men used to wear diamond wedding rings rarely and indeed a diamond ring would not have been a standard item for your average male, but society has progressed, and we are finding that more and more of our customers are considering these options.
Unusual diamond wedding rings individually made especially for you and your partner
Well, what a treat we have for you on this page - a selection of unusual diamond wedding rings designed with the modern masculine image in mind. At Love2Have we know how important it is for men to feel comfortable with their jewellery and none more so than the male wedding ring. The diamond rings in this section are the best alternative in looks too, especially so when combined with other precious metals and sparkling diamonds to create these striking bold designs. Men looking for a manly diamond ring have come to the right page.
Unusual diamond wedding rings available exclusively for everyone else too
While we have listed these diamond wedding rings for the men's market, these rings will also appeal to anyone as the flexible design complements any occasion. The rings listed are one-off designs, so before ordering, please contact us first regarding exclusive availability.
Our zirconium men's rings
Finding a suitable diamond ring for a man can be quite a problem, but this range fit the bill perfectly and with their all black coating, our zirconium rings give the highest contrast possible for any white or coloured diamond ring. The same is possible for black diamonds when setting in the natural colour of zirconium and our relieved men's diamond rings demonstrate this very well.
All of these men's diamond rings have a very contemporary modern look and being all black can be classed as almost Gothic in style too. Black zirconium rings are a firm favourite for customers who are into their alternative jewellery. If you like what you see here, then do take a look at the black Celtic rings in the men's Celtic rings section, the two-tone and all black rings in the men's wedding rings section and the most alternative of all, the Gothic rings listed on our website.