STEEL DIAMOND RINGS
British made stainless steel diamond rings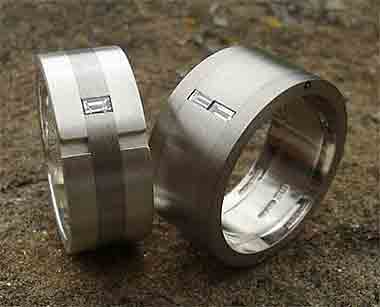 The BEST! British made men's diamond rings in stainless steel, very tough and hard wearing; stainless steel is the ultimate choice of metal that one of our designers uses to fashion some of our diamond rings for men.
These UK made steel diamond rings in this section are also the best alternative in looks too, especially so when combined with other precious metals to create striking bold designs. Men looking for a manly diamond ring or maybe even for a men's engagement ring have come to the right page.
Our other steel rings
Visitors to this section of our website may also be interested to know that we also do a range of very stylish plain stainless steel wedding rings in the UK made wedding rings section too.