SILVER ENGAGEMENT RINGS
British made silver engagement rings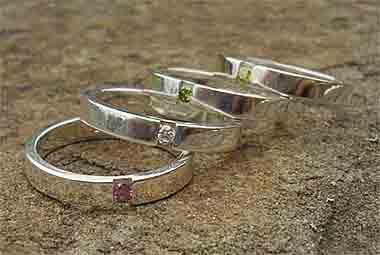 The BEST! British handmade engagement rings in silver that sparkle. Gold is the money of kings but silver is the money of gentlemen so can you put a price on love in silver? If you buy from us, you needn't worry as all our silver engagement rings are lovingly handcrafted, each one possessing a unique individuality of its own.
All of the silver engagement rings on this page are available with matching plain wedding rings for him and her. We can even offer exclusive discounts if you require a wedding ring set. Please contact us for further details or first take a look at the silver wedding rings and our bridal sets that are both found in our UK made wedding rings section.
Nothing on our website is imported or made abroad. All these engagement rings are designed and made here in the UK with a passion and to the very highest of quality and craftsmanship. We offer a full guarantee and an after sales service should you require it.