RUNE RINGS
British made Rune rings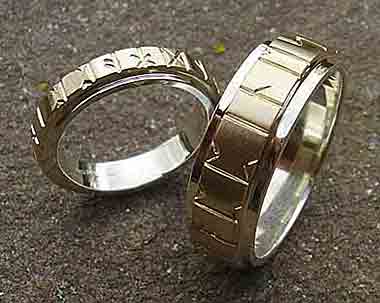 The BEST! British made Runic rings at the lowest prices online with FREE personalised Rune engravings on selected models. Featured in this section are our Runic (or Rune rings as some people prefer to say) that are available in precious metals and also the more modern option of titanium. Our gold Rune rings are all handmade in Orkney, a remote island far north of Scotland and make beautiful wedding rings. As an alternative consider titanium as an option with your very own engraving translated into the Runic alphabet.
If you are considering other options other than Runic for a custom engraved ring, then do visit our personalised wedding rings in the wedding rings section. All the rings are precision laser engraved to the highest quality.
Nothing on our website is imported or made abroad. All these Runic rings are designed and handmade here in the UK with a passion and to the very highest of quality and craftsmanship. We offer a full guarantee and an after sales service should you require it.