OGHAM RINGS
British made Ogham rings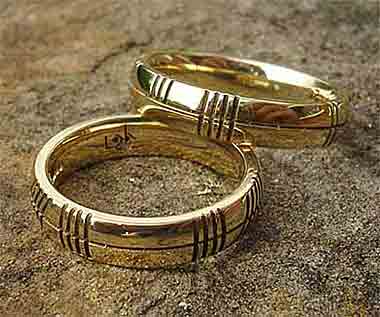 The BEST! British made Ogham wedding rings at the lowest prices online with FREE personalised Ogham engravings. All our beautiful Ogham wedding rings are hand machined in Central England, the heart of the UK's manufacturing industry. Each ring is precision lathed in either white or yellow 9ct gold or titanium. The Ogham engravings can all be personalised with your very own message, therefore making them a very suitable choice for a wedding ring or indeed a very special gift.
If you want to know more about the Ogham alphabet and some Celtic history we have put together an article on the subject. The link is below.
If you are considering other options other than Ogham for a custom engraved ring, then do visit our personalised wedding rings in our wedding rings section. All the rings are precision laser engraved to the highest quality.