MEN'S WEDDING RINGS
British made men's rings you'll love!
The BEST! men's wedding rings made in the UK. In this category, we decided to feature mainly our two-tone or twin finish zirconium rings. Zirconium is a very similar metal to titanium, and what is excellent about zirconium is that it can be turned all black and machined into a two-tone design, something we think makes a great alternative; something exciting and dynamic that just screams men's jewellery. Just like titanium, these rings can be personalised on both the inside and outer edge using laser engraving technology.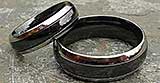 About our zirconium men's wedding rings
Zirconium also offers more flexibility in design styles and finishes, is more affordable, and certainly more durable. Its versatility can be found on our men's Celtic rings, and our men's diamond rings too. Durability is essential as men tend to be much more substantial on their wedding rings than women. Do remember though that no metal is scratch proof and you must look after your wedding ring if you want it to continue to look good for many years.
Enjoy top quality at unbeatable value!
On a final note we are very confident in that not only do we provide the BEST wedding rings for men made here in the UK (and probably the world) but also at the LOWEST PRICES too. If you think you may have seen the same wedding ring elsewhere at a lower price, let us know, and we will price match like for like. YES! We can BEAT anyone!
Simply put, zirconium virtually has the same properties as titanium. In its basic form, just like titanium, it is grey and very light and unyielding. Its industrial uses include the ability to aid in the cooling systems for nuclear reactors, and it can be worked precisely like titanium to match the same design styles featured in titanium on this website. However, zirconium has one other very peculiar trait that titanium doesn't, in that it reacts and changes colour to temperature. Almost any colour can be created using this heat treatment, including the most favourite colour of all - black which we feature in our Gothic rings section.
Making a coloured zirconium ring is similar in technique to making a titanium one. The ring is machined, to begin with from a tubular blank and then heated in special ovens to create its colour. Finally, a finishing process is applied. When the baking process is complete, a coloured surface remains. It is so hard that it compares to sapphire, so, therefore, the ring can put up with a certain amount of everyday wear and tear. We sometimes hear from customers that the surface has come away, but this is, in fact, the reverse. It is the face of the material that the ring has been in contact with that has adhered itself to the surface of the coloured zirconium ring. Don't worry; our after-sales service can help you out if you ever need a ring refinished at some stage.
Another clever trick is to use the technique in reverse and remove some of the coloured surfaces to reveal the natural grey colour. Again, specialist lathing equipment is required to do this, but as these machines work with pinpoint accuracy, you can produce the most impressive two-tone rings in natural grey and black. When finished, these rings make the most unusual or alternative rings that we have ever seen.
Zirconium also has an almost magical ability to heal its surface when it marks lightly - polish it with a jeweller's cloth and hey presto the mark is gone! However, we must stress that deeper scratches caused by negligence would damage the surface and would require refinishing. With this in mind, you must look after your ring as you would any other type of jewellery - it is only a metal after all - it is just some are tougher than others if coming into contact with stone etc. It is a fact that zirconium and titanium will stand up to far more abuse than traditional precious metals such as silver or gold.
Zirconium is an excellent choice for cost-effective for engagement rings too as a diamond can be set into the surface cleanly and very securely. We tend to find men prefer the zirconium ranges as they come in black and when set with a diamond, zirconium makes an excellent men's diamond rings.
With all the above in mind, why not consider zirconium as a choice, something very different. It is far cheaper than gold, therefore making it a real option if you find yourselves looking for affordable mens wedding rings, but don't want to compromise on quality or individuality with an alternative style.