MEN'S SILVER RINGS
British made men's silver rings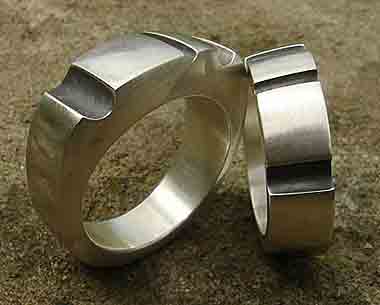 The BEST! British handmade men's silver rings in both unusual and contemporary styling. Silver rings for men have become very popular with men and in particular with younger males who often will wear more than one ring at a time on different fingers. Although traditionally many men over the years would have worn wedding rings, not many would have opted to wear dress rings apart from the occasional signet ring or gold coin ring which were popular in the 80's and 90's.
Top quality men's rings made of solid sterling silver
These days there is a much wider variety of both materials and design styles to suit all tastes and fit within people's budgets. Sterling silver is a fantastic option and men often like oxidised silver rings which come in much more chunky styles. Silver is quite a soft metal, so you need to bear that in mind if you are likely to subject your ring to heavy wear and tear.
Our men's silver wedding rings
As we mentioned men's wedding rings above, we also have a selection of UK made silver wedding rings which visitors to our site may also consider if looking for a quality sterling silver wedding ring.