MEN'S ENGAGEMENT RINGS
British made men's engagement rings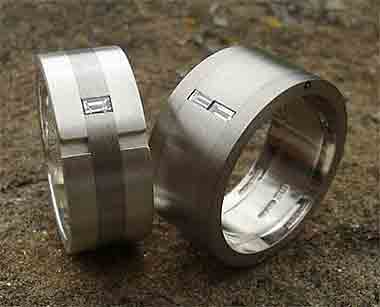 The BEST! British made men's engagement rings in stainless steel, silver and gold, very tough and hard wearing; stainless steel is the ultimate choice of metal for men that one of our designers uses to fashion our diamond engagement rings for men.
Mangagment rings individually made especially for you and your partner
Well, what a treat we have for you on this page - a selection of men's engagement rings designed with the modern masculine image in mind. At Love2Have we know how important it is for men to feel comfortable with their jewellery and none more so than the male engagement ring. The rings in this section are the best alternative in looks too, especially so when combined with other precious metals and sparkling diamonds to create these striking bold designs. Men looking for a manly diamond ring have come to the right page.
Men's engagement rings available exclusively for everyone else too
While we have listed these engagement rings for the mensgagement market, they will also appeal to anyone as the flexible design complements any occasion. The rings listed are one-off designs, so before ordering, please contact us first regarding exclusive availability.