UK Made MENS DIAMOND RINGS
UK made mens diamond rings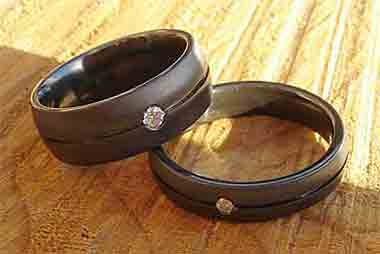 The BEST! British made mens diamond rings that sparkle in black Zirconium. Finding a suitable diamond ring for a man can be quite a problem, but this range fit the bill perfectly and with their all black coating, our zirconium rings give the highest contrast possible for any white or coloured diamond ring. The same is possible for black diamonds when setting in the natural colour of zirconium and our relieved mens diamond rings demonstrate this very well.
Our other mens rings
All of these mens diamond rings have a very contemporary modern look and being all black can be classed as almost Gothic in style too. Black zirconium rings are a firm favourite for customers who are into their alternative jewellery. If you like what you see here, then do take a look at the black Celtic rings in the mens Celtic rings section, the two-tone and all black rings in the mens wedding rings section and the most alternative of all, the Gothic rings listed on our website.
The best mens diamond rings in the UK
On a final note we can not only provide the BEST mens diamond rings made here in the UK (and probably the world) but also at the LOWEST PRICES too. If you think you may have seen the same mens diamond ring elsewhere at a lower price, let us know, and we will price match like for like. YES! We can BEAT anyone!