ENGRAVED TITANIUM RINGS
British made decorative titanium rings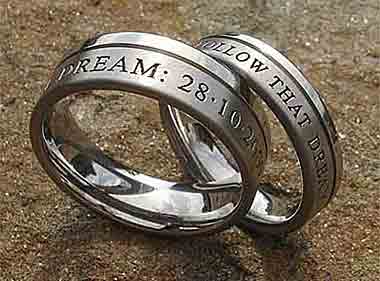 The BEST! Quality cutting edge titanium rings all made here in the UK. We have a range of exciting and dynamic designs at affordable prices. Our laser engraved titanium rings are the most exciting and innovative of all the collections of rings we sell. Cutting-edge technology is used to produce this dynamic and diverse range of men's and women's rings, and as you can see the images speak for themselves.
Our other patterned titanium rings
This technology can create very intricate patterns and also more understated styles in the form of simple personalised messages on both the inner and outer parts of any ring - perfect for your personalised wedding rings or any other special occasion. The patterns are all created by the laser burning into the titanium which leaves a deep engraving. If you look closely at the images, you will spot a pitted textured surface where the laser has come into contact with the titanium. The pitting creates a darker area due to the way the light catches it which adds to a greater definition of the patterning also seen on the rings in the titanium Celtic rings section.