DIAMOND ENGAGEMENT RINGS
British made diamond engagement rings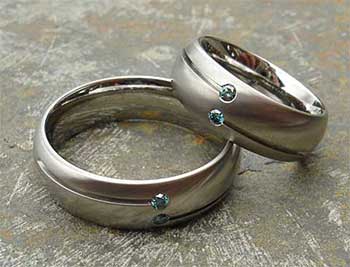 The BEST! British made diamond engagement rings in modern designs that all sparkle for sale online in the UK. Many of the diamond engagement rings listed in this section come in titanium, the perfect metal of choice to protect your valuable diamond, however, precious metal engagement rings (including our most popular precious metal of all sterling silver) feature in this category too, so we have a diamond engagement ring here to suit everyone's taste.
Our diamond engagement rings ooze strength
Diamond is the hardest substance known to man and titanium is one of the strongest, so when we combine titanium with diamonds, our diamond engagement rings ooze strength. However, strength not just in durability, but also in design and quality British manufacturing. These rings are not the only rings we sell that are made from titanium and set with diamonds. Take a look at the titanium engagement rings in the engagement rings section too for a fantastic range of engagement rings that all offer exceptional value for money.
Quality diamond engagement rings made in the UK
Nothing on our website is imported or made abroad. All these diamond engagement rings are designed and manufactured here in the UK with a passion and to the very highest of quality and craftsmanship. Additionally, we offer a full guarantee and an after sales service should you require it.