Celtic Titanium Rings Symbolism Design & Artwork

Buying UK made titanium Celtic rings? We have the BEST online Information EVER on Celtic titanium rings, symbolism, design and artwork and purchasing on the internet.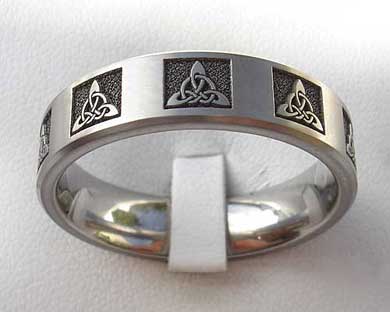 Who were the Celts?
The Celts were initially a group of tribes that discovered they had a culture that was common amongst themselves during prehistoric times. However, the Romans defeated the Celts in Western Europe because of the lack of unity among the Celtic tribes which ultimately lead to their downfall. The Celts were then forced to live on the outer fringes of Europe including Ireland which is the most famous country for Celtic traditions. The Celtic artwork was believed to be very symbolic often being based on nature using images of birds, animals and fish. The Celts believed firmly in the interconnections of all life and produced the familiar Celtic Knots. Pictured on the right is the Celtic trinity knot featured on one of our titanium rings, an excellent example of the use of Celtic engravings on modern jewellery.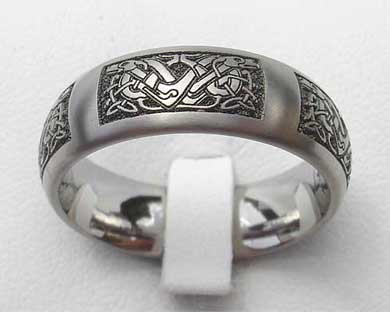 Ancient Celtic designs are used in jewellery today
Lost throughout all time the real symbolism of Celtic designs are still used in jewellery today and are very popular in Scottish Celtic engagement and Celtic wedding rings. The infinity knot Celtic wedding ring is beautiful indeed. Geometric designs have always featured prominently in Celtic artwork with spirals, chevrons, scrolls and knotwork. Many of these patterns can be seen decorating stone carvings or ancient manuscripts and religious books. Celtic artwork and design survived through the ages as seen in items such as jewellery. The patterns have evolved, developing into very contemporary designs for consumers who like modern urban living and fashion statements.
About our Celtic titanium rings
Our titanium Celtic rings are the most popular selling of our rings on our website. These rings make fantastic wedding rings as a choice to the more traditional Celtic wedding rings made from gold. The Celtic designs on our rings are all faithfully reproduced, whether it by the conventional methods by handcrafting on a jewellers bench or the precision laser engraving techniques used for our titanium rings, the patterns are kept alive to this day.
Featured here are three of our titanium rings all laser engraved with Celtic designs including the trinity symbol and Celtic dog engraving. If you are looking for a Celtic wedding ring for a man, then you have come to the right place. Our ring sizes are all available in the official UK and international measurements. They make excellent wedding ring sets also.
Additional reading
---
The BEST Selection EVER of CELTIC RINGS Online in the UK
---